UsableCash.com puts YOU in CONTROL
Step 1 - Enter Bills
Each expense icon is grouped into categories & subcategories.
On your initial visit, while entering expenses, you'll need to either save or skip through each category, before that category will close.
If you have more than one bill in a category, for example: two car payments, click Add Similar after the first expense information is entered to add the next similar expense.
If no other expenses in the same category, click save, which will bring you to the next suggested expense within that category.
At the end of each set of bill icon categories, you can add as many Other Expenses, as needed.
Step 2 - Enter Income
First review checking account options
Next, type in the Source of Main Income
Select How Often paid
Select the Starting on Date of your very next payday, or date you plan to deposit or transfer funds to your bill account.

Paychecks automatically deposited:

2 Checking Accounts:

Select the Starting on Date as the date you set up to transfer the entered income amount from Account A into Account B, and by which the funds will be available in Account B
Automatic transfers are recommended.

1 Checking Account:

Select the Starting on Date as the date your income is automatically deposited and/or available in your bank.

Paychecks not automatically deposited:

For either checking account option, select the Starting on Date to be the latest date in which you plan to deposit your paycheck.

The Income Amount: is not entered at this point, since UsableCash.com calculates the Average Minimum amount needed per pay period to cover only the entered expenses. The Average Minimum is based off the main income entered. Add as many additional incomes, as needed, by selecting Add Income at the bottom of the income page.
Step 3 - Click View Budget
The
My Budget
page displays the
Usable Cash
,
Reserve Funds
,
One-Time Outgoing
and
Incoming
and two months of your upcoming budget. Click
Update Range
, to view up to 5 years of your financial future.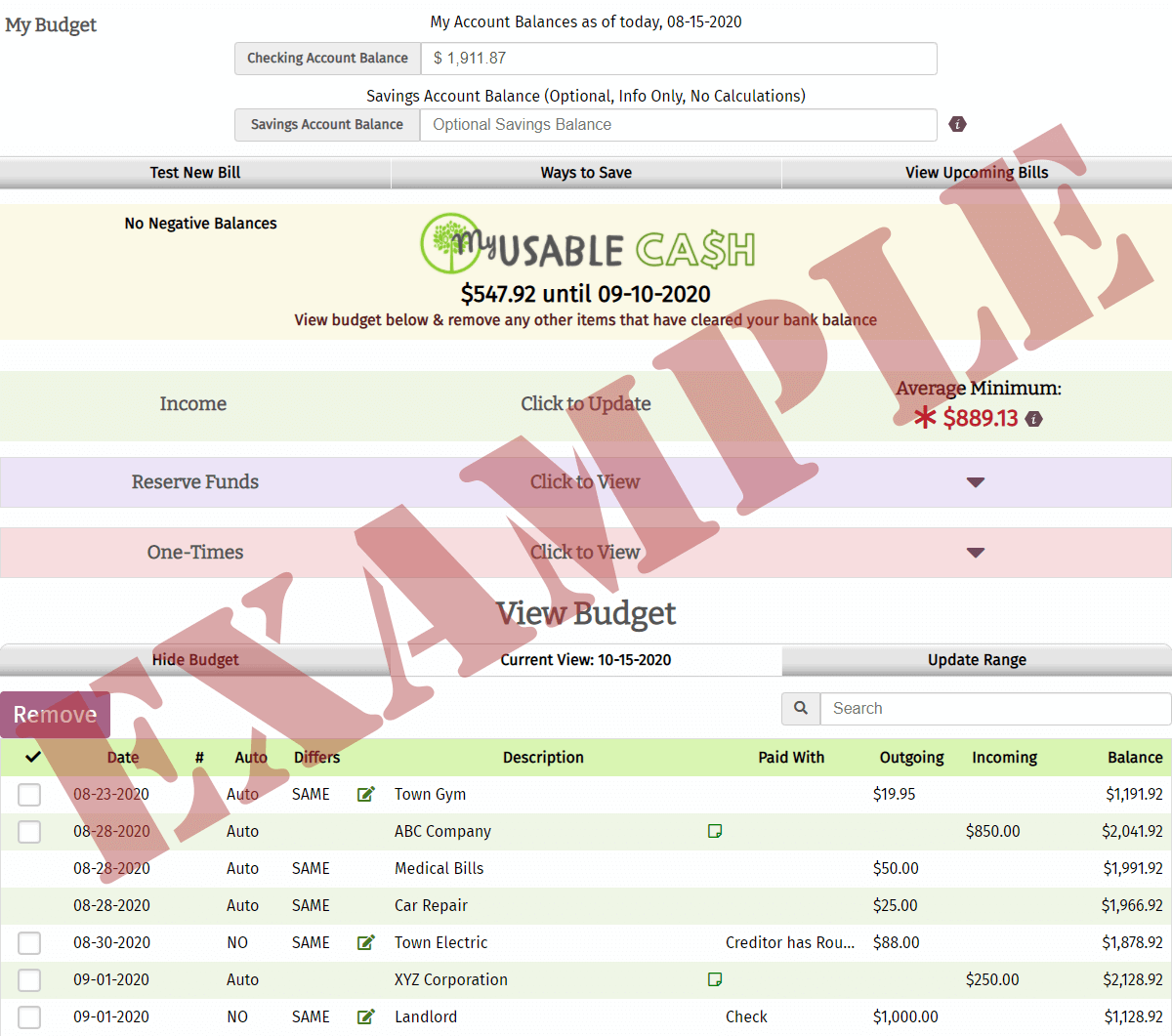 ---
UsableCash.com
is user friendly and totally flexible. We do all the calculating for you, taking the guessing game out of your finances. Once you visualize the potential of your future financial life, it will be your lightbulb moment, your future will be clear, which puts YOU in control.
Pricing
Everyone is given a 3 months FREE trial period, upon registration. At the end of 3 months the introductory subscription cost is $5.00 USD per month. (SAVE 25% by opting for the annual subscription fee of $45 USD) The fees are for technical support & allows us to host the site AD FREE. Upon your first visit after the 3 months trial, you will be asked to enter a payment option, if you wish to continue to maintain access to your budget and all the awesome features UsableCash.com has to offer. There is no obligation and you may cancel at any time. We are confident that you will see the value in using this site, and won't want to live without it!
Cancellation/Refund Policy
UsableCash.com does not require a payment method during the trial period (first 3 months of use), has no contracts or obligations, therefore:
Cancellation. You can cancel your UsableCash.com membership at any time. You will continue to have access to the UsableCash.com service up to the date listed on your "My Account" page under "Premium Expiration". To cancel, log in to your UsableCash.com account. If you have forgotten your password, click "Forgot Password". After logging in, go to the "My Account" page, click "Delete Account", at the bottom of the page, and follow the instructions for cancellation.
Once you delete your account, you will receive a "Cancellation Confirmation" email, and your account will automatically close on the date under "Premium Expiration" found on your "My Account" page, which is one month from the last payment received.
If you accidentally cancelled your membership, click the link in the email: "If this was done in error, you may re-subscribe by visiting this link: www.UsableCash.com/subscribe", or by logging into your UsableCash.com account, click on "My Account" page, then click the link to re-subscribe. Unless you delete your account, automatic monthly payments will continue to draft from the payment method you set up, after the trial period, found under "Payment Method", on the "My Account" page.
No Refunds. Payments are nonrefundable and there are no refunds or credits for partially used periods. Following any cancellation, however, you will continue to have access to the service through the end of your current billing period. At any time, and for any reason, we may provide a refund, discount, or other consideration to some or all of our members ("credits"). The amount and form of such credits, and the decision to provide them, are at our sole and absolute discretion. The provision of credits in one instance does not entitle you to credits in the future for similar instances, nor does it obligate us to provide credits in the future, under any circumstance.
Earn FREE Months!!
Referring friends earns you ONE FREE MONTH each, when your friend purchases at least one month of subscription to UsableCash.com. Once your friends first payment is received, your next months subscription fee is on us. NO LIMIT - REFER 12 friends = 1 year of FREE service! If you've opted for the annual subscription, then for each paid friend you refer, your annual renewal is pushed off by one month.